Vision and Mission
Our Vision
We aspire to be the global steel & oil industry benchmark for world's most reliable and innovative steel & oil manufacturer, service and solution provider in the industry.
Our Mission
To maximize value for our worldwide client base by supply high quality steel & oil products, providing related services and solutions while utilizing innovative technologies and a team of motivated employees, focused on continuous improvement, highest business standards, work ethics and corporate citizenship
Our Strategic Vision
Moving up the Steel & Oil Value Chain
Diversifying the Product Base
Geographic Expansion
MANAGEMENT
One of DANA's core competitive advantages is the depth of its management team who have over 30 years of industry experience. Most of the senior management has been with the firm since founding and have accumulated significant expertise in the industry. Management is committed to effectively recruiting, training and retaining talented personnel to ensure The Company's strategic vision is executed throughout the organization.
About The Founder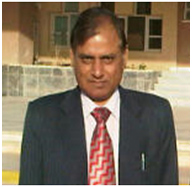 Dr. Birbal Singh Dana
The owner, Chairman and Managing Director of the company, Honorable Dr. Birbal Singh Dana is a General Surgeon by profession and has served in the University Hospital of Libya for a considerable period of 15 years with a great success. He started his surgical career as a resident surgeon and progressed to the designation of The Head of Department (Surgery) in the University Hospital of Libya. He has got the recognition as a distinguished and qualified general surgeon. After twenty years of successful surgical practice he moved to UAE and ventured into the field of Entrepreneurship in the year 1991 with the sound principles of honesty, hard work and patience.
Since then he has never looked back. Dr. B.S. Dana had a vision and acumen to be an entrepreneur and therefore he left his profession to enter a more challenging field of business.
Dr B. S. Dana has been recognized as one of the Top Indian Leaders in the Arab World by the FORBES Magazine. Forbes List is very well known source for industry rankings around the world and Dr Dana is honored to be on the Forbes Top Indian Leader in the Arab world 2016! Here's the link to the rankings
Forbes Top Indian Leaders Arab World 2016 :- http://www.forbesmiddleeast.com/en/lists/people/pname/birbal-singh-dana/pid/89201/
Forbes Top Indian Leaders Arab World 2015 :- http://www.forbesmiddleeast.com/en/lists/people/pname/birbal-singh-dana/pid/84031/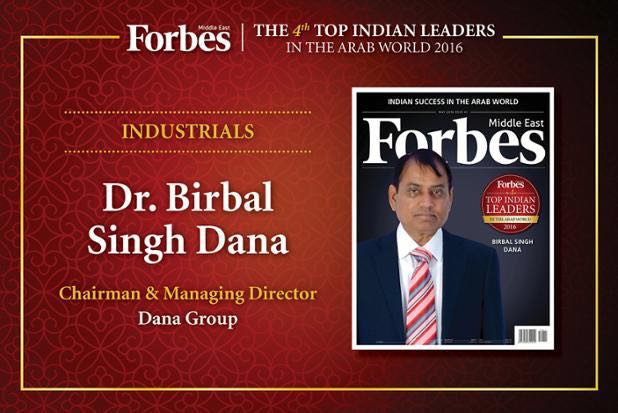 DANA Group
Dr. Birbal Singh Dana shifted to Dubai way back in 1991 and established DANA Groups of Companies with the area of operation spread over vast range of products and services both within and outside U.A.E. DANA group has prospered and progressed to the present stage with future commitments and dreams. Today DANA group are a family of over 500 professional, committed, hard working members. In the Financial Year 2004-05 DANA Group had an annual turnover of 500 Million. Since then there has been a phenomenal growth year on year.The group has Corporate Office and Showrooms in Dubai, Trading Companies in India and Dubai, Associate Offices in Qatar,West-Africa and South-Africa, and Manufacturing Units in UAE and India backed by highly experienced R & D personnel.In the year 2013 the group also diversified into Retail & Healthcare with Launch of DANAMART(www.danamarts.com) and Lubricants/Oil Manufacturing ( DANA LUBRICANTS FACTORY LLC) www.danalubes.com and inaugration of DANA Shivam Super Speciality Hospital(www.shivamhearthospital.com) in Jaipur(INDIA).
Company Policies
Since its inception the group's endeavor has always been to do their best in catering the needs of their valued customers with their high quality products and services, of course at reasonable rates. Sharing and practicing this principle are their corporate office, manufacturing unit and showrooms in Dubai, trading companies and manufacturing facilities in India and associate offices in West Africa and South Africa. The company management preaches Japanese Style of Management where ideas pass on from shop floor level right up to the top management's desk.