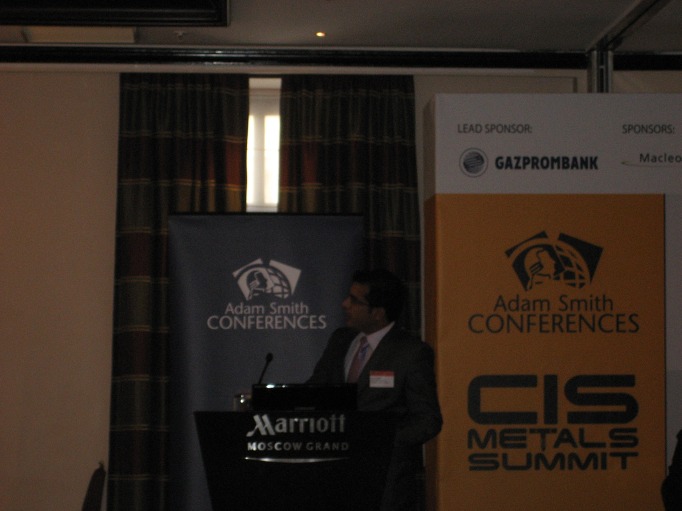 February 2011 :- DANA Group's participation at CIS Metals Summit(15-17 February 2011 – Moscow)
DANA Group's spokesperson Mr Ankur Singh Speaks at CIS Metals Summit held in Moscow(15 -17 February 2011)
Mr Ankur Singh,Spokesperson for DANA Group's Coil service center & Steel trading division was amongst distinguished speakers at the conference.The Main Agenda of the Conference was as below :–>
CIS METALS SUMMIT, 15th – 17th FEBRUARY
(http://www.adamsmithconferences.com/en/steel-metals-russia-cis-2011)
CIS MARKET LEADERS: Business Development Scenarios and New Investment Projects
NEW UNCERTAINTY. Double dip: how to get ready for a potential economic downturn
Customs Union: is it likely to increase competition in the CIS market?
FOCUS ON: UKRAINE. New agreements between Ukraine and Russia: creating a united metals market
STATE POLICY and new government strategy for the CIS metals industry
ASIAN MARKETS. CHINA, KOREA, JAPAN
IPO Spotlight: Hong Kong as a Bridge to the Asian Capital Markets
MIDDLE EAST: risks and opportunities
FINANCING MODERNISATION – New approaches
What are the price forecasts for the various key raw materials?
Iron ore pricing system: the end of annual benchmarks. For how long will prices for steel and other metals continue to be negotiated on an annual basis?
Export duties revision: nickel and copper. When will a new formula for export duties be developed?
IN CONVERSATION WITH TRADERS AND ANALYSTS. FOCUS ON STEEL: are prices sustainable?
Other Distinguished Speakers at the Event were :->
Igor Konovalov, Chairman of the Board, Inprom
Eduard Potapov, General Director, Metalloinvest
Vitaly Chernomor, CEO, Novaem
Konstantin Lagutin, Vice President, Iron Ore Division, Evraz
Andrey Laptev, Strategy Director, Severstal
Sergey Rezontov, Head of Corporate Finance, Mechel
Hadi Hami, Senior International Trader, Middle East & North Africa, Alam Steel
Alain Davezac, Vice President, Strategy and Development, Essar Steel
John Johnson, CEO, CRU China
Alexander Andreev, Deputy Director, Raspadskaya
Frank Rittner, Director of Strategy and Business Development, Interpipe
David Faktor, Group Managing Director, Stemcor Holdings
Alexander Lopatnikov, Managing Director, American Appraisal
Robert Sheldon, New Products Manager/Steel, London Metal Exchange
Alexander Deineko, Director, Pipe Industry Development
Alexander Sidorin, Head of Purchasing Department, OMK
Alexander Rumyantsev, Director, Financial Valuation and Modelling, American Appraisal
Dean O'Keefe, Director, Micromine Consulting Services
Julia Belskaya von Tell, Director of Business Development, Fitch Ratings
Leonid Shevelev, Vice President, Russian Union of Metal Exporters
Richard White, CEO, Iron and Steel Statistics Bureau
Below is Ankur Singh's Presentation from the Event :->
CIS_MSUMMIT-2011-presentation-Ankur.Singh
Pictures from the Event :–>