Quality Comes with Warranty
"DANA HEAT PUMPS" are specially designed as per Gcc climatic conditions.A highly energy-efficient pool heating/cooling solution,with a simple cost-effective design,with various models and premium features, there is sure to be an "DANA"pool heat pump perfectly suited to your needs.A team of professionally skilled workforce ensures the highest standards of quality for the global market. Delivery schedules are promptly executed to meet market deadlines and International Standards.We provide supply & installation services in Dubai,Sharjah,Ajman,Abu Dhabi,Ras Al Khaimah,Al Ain across the UAE.Our products are also exported to Qatar, Bahrain, Oman, Kuwait, Saudi Arabia, Kenya, Jordan & vast number of other Arab Countries.
DANA HEAT PUMPS (Chiller-cum-Heater)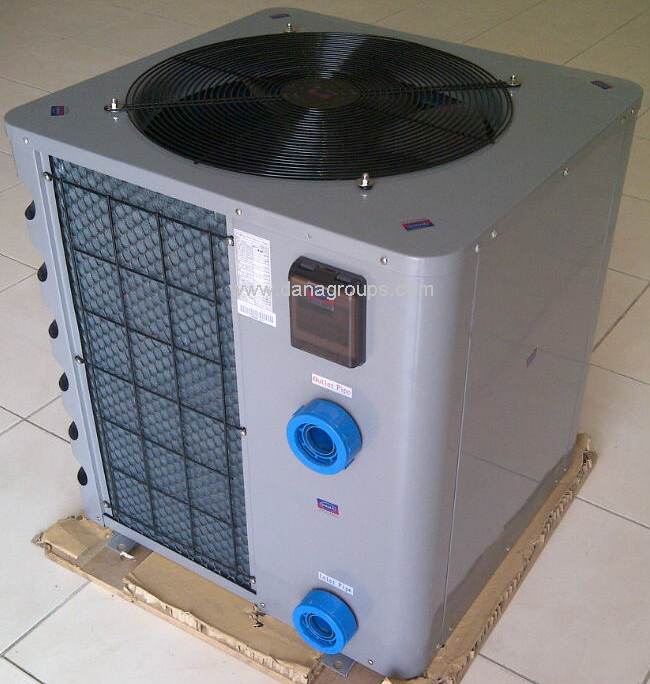 MODELS:- DANA DCH-3000/DCH-5000/DCH-7000
Electrical Supply
DCH-3000 (Single Phase 220-240V AC/50-60Hz)

DCH-5000/DCH-7000 (Three Phase 380-400V AC/50-60Hz)

Refrigerant/Charge
R-22
Condenser
Fan Cooled Tube /Plate Type With Weather Protection
Compressor
DCH-3000 :- Rotary Type

DCH-5000/DCh-7000 :- Scroll type

Rated Power kW
DCH-3000 :- 2.4 kW

DCH-5000 :- 3.8 kW

DCH-7000 :- 4.5 kW

Water Inlet/Outlet ( mm)
50mm
Cooling/Heating Capacity
DCH-3000 :- 10kW/16kW

DCH-5000 :- 15kW/23kW

DCH-7000 :- 20kW/30kW

Temperature Control
10 degrees to 32 degrees celcius
Size
DCH-3000/DCH-5000 :- 680 mm x 694mm x 700mm (l x w x h)

DCH-7000 :- 740mm x 694mm x 950mm (l x w x h)
SALIENT FEATURES
1. Specially Designed for Gulf Conditions, Having both Heating & Cooling Uniform temperature throughout the year.
2. Easy to Install and Operate
3. Very Low operational cost, Dana Heat Pumps use " Spec-Plus" technology, which give 80% electricity savings & up to 5 times higher energy outputs.
4. Dana Heat Pumps have very low operating noise levels.
5. Electronic reverse cycle De-Ice control and build in safety switches.
6. Specially designed  hydrophilic coated corrosion-resistant condenser coil.
7. Have long life expectancy & are very durable.
8. Excellent after sales service & technical support.
9. Featuring Japanese SAGNOMIYA "Electronic Expansion Valve" 20% higher efficiency than the traditional heat pump.
10. Japanese SAGNOMIYA "4 way- valves" which leads to the fastest defrosting and higher efficiency.
11. High class Titanium Heat Exchanger free from corrosion.
IDEAL POOL CAPACITY BASED RECOMMENDATION
<40m3   – DCH-3000
40-60m3 – DCH-5000
60-75m3 – DCH-7000
75-120m3 – DCH-5000 x2
"We also make custom made 10 ton & 20 ton Chillers for special orders."
Capacity is in U.S Gallon,1 U.S Gallon=3.8 Ltr.
For a detailed Technical Specifications Sheet and Complete Catalogue please feel free to Contact us.
Keeping in pace with rapid technological developments all technical specifications & models are liable to change without prior notice.