Sandwich Panel Puf-PIr Roof-Wall Manufacturer in Dubai Qatar Oman Saudi bahrain
DANA STEEL PROCESSING INDUSTRY LLC ( UAE)
( ISO 9001:2008 Certified Manufacturer of Sandwich Panels in PUF/PIR/ROCKWOOL for Roof & Wall Applications).
CALL NOW :- 00971-50-7983153(Mr Ankur) /whatsapp/  or 00971-4-2217273 for pricing

+971507983153
EMAIL :- ankur@danagroups.com / info@danasteel.com
DANA STEEL ( A Division of DANA Group [www.danagroups.com])is a leading manufacturer of high quality sandwich panels for usage in the construction and engineered buildings section.Needless to mention the goodwill of the firm which is enjoying an evergrowing market share in the middle-east and north African region.We are exporting our high quality products to Qatar(Doha),SaudiArabia(Dammam,Jeddah,Riyadh,Yanbu,Jubail),Kuwait,Bahrain(Manama),Oman(Muscat,Sohar,Seeb),Nigeria,Kenya,Uganda,Mauritius,Africa,Morocco,Algeria,Jordan,Burundi, Comoros, Djibouti, Ethiopia, Kenya, Madagascar,Mauritius, Rwanda, Seychelles, Somalia, Tanzania Rep and Uganda.
The main product lines DANA offer include various types of insulated profiled & flat sandwich panels(PUF/PIR/ROCKWOOL), profiled cladding sheets,Curved eaves,gutters, secondary structural members, Wall Cladding Sheets, Roof Cladding Sheets, Curved Cladding Sheets, Flashing Sheets, and Cold Store Panels and all kind of fixing accessories(self drilling and self tapping screws,sealants,butyl tape,color caps,purlin tapes,aluminium pop rivets).
DANA Insulated Sandwich panels are made from a combination of the below facings :–>
Corrugated Cladding sheet: – ( PPGI/PPGL/PPAL) or ( MFGI,MFGL,MFAL) — Pre-painted(PP) or Mill finish(MF) in Aluminum, Alu-zinc and GI steel
Bottom Liner sheet: – ( PPGI/PPGL/PPAL) or ( MFGI,MFGL,MFAL) — Pre-painted or mill finish in Aluminum, Alu-zinc and GI steel or aluminum foil backed craft paper
Insulation Material:-PUF – Polyurethane foam (B2|B3) ,Polyisocyanurate(PIR),Rock wool/Mineral Wool in Thicknesses 40mm,50 mm,75mm,100mm,125mm and 150 mm.
Profiles Available:–>
ROOFING :- DCP 35/200 | DCP 45/250 | DCP 45/150
WALL :- DFP ( Microribbed)
DANA supplies sandwich panels & it's accessories based on the client's chosen parameters such as weight, strength, durability, surface finish, colour and thermal insulation properties.Our Experienced engineers take into mind the K & U values,Fire class,Structural Load bearing capabilities while recommending the right choice for the job.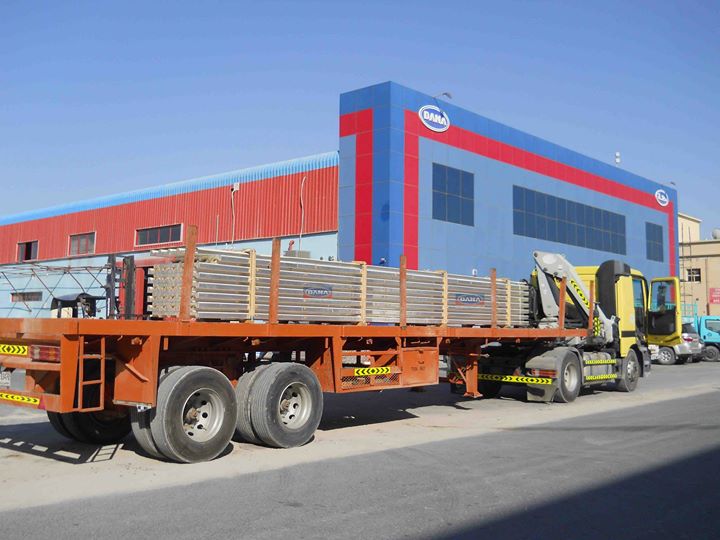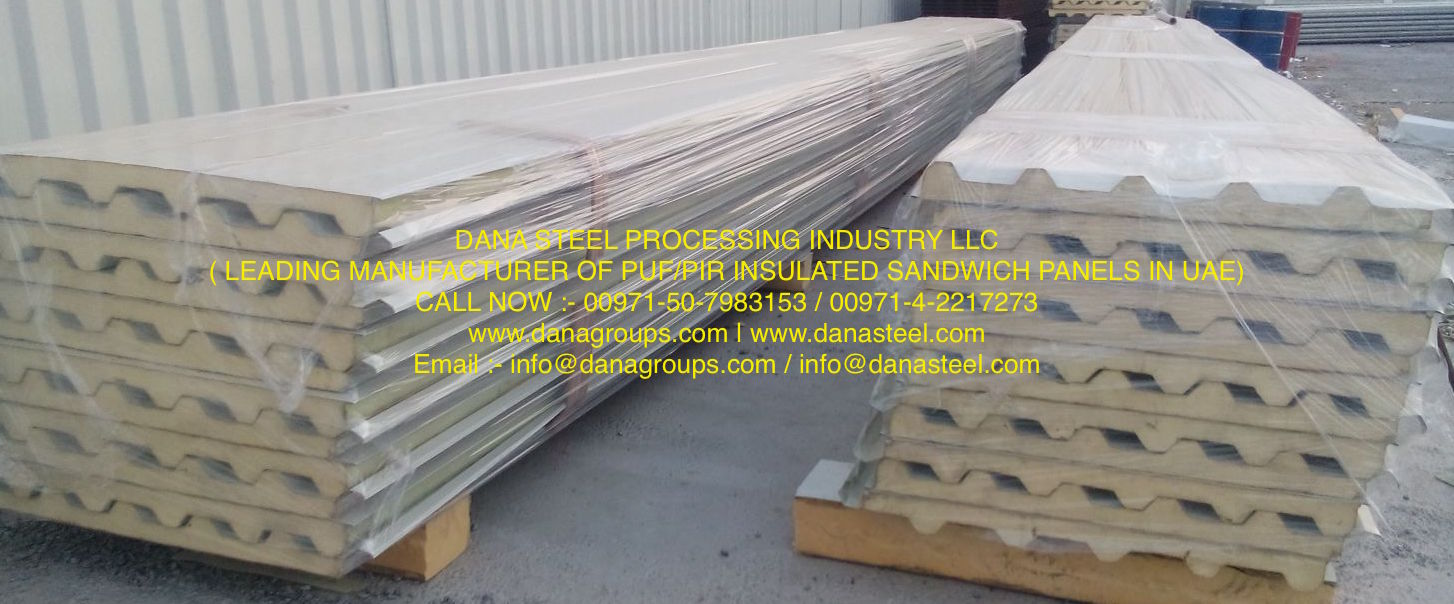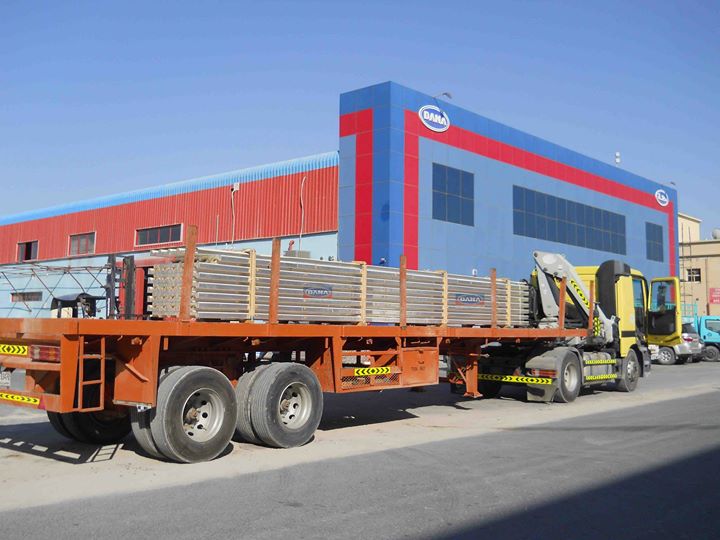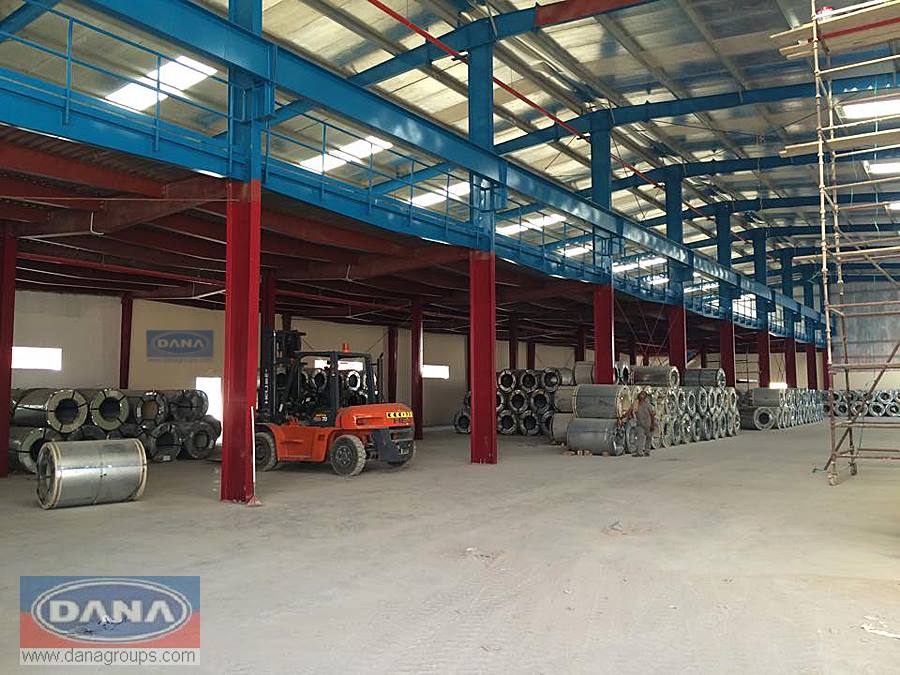 Sandwich Panel Supplier Dubai Uae | Insulated Roofing Panel Supplier | Polyurethane Puf Panel Roof Manufacturer Uae
CALL – 00971-50-7983153( Mr Ankur)